HEAR FROM OUR CUSTOMERS
Great service from Hervor and love the design which looks even better in the flesh than online. My only complaint is the difficulty in picking which one I wanted from the awesome combinations offered.

Cody Bradshaw
I absolutely love my new Hervor watch and the interchangeable bands make it so versatile for any occasion and the quality is incredible. The owners went above and beyond for me, getting it delivered all the way over to Canada in a very short space of time. Would certainly recommend Hervor to anyone after a new watch or a gift for someone. 11/10

Jamie Spencer
Fantastic watch - got the Silver face and the brown leather strap - looks awesome. Thanks Hervor!

Greg Mawer
Saw the black on black combination and fell in love with it. I used to not wear a watch at all, now I wear it every day; it goes with everything.

Richard Fourie
Got the silver face with the pink strap for my girlfriend for Christmas. She loved it!

Iain Cameron McIntyre
A beautiful timepiece with a quality built body. Highly recommend this brand. If you want a quality for a great price, Hit these guys up.

Corey James
Love my watch. Such a clean and elegant look, and so easy to switch between straps.

Dan Bush
WHAT SETS US ABOVE THE REST?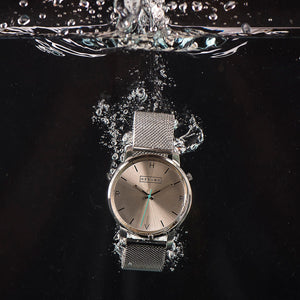 WATER RESISTANT
Though we don't produce sport watches, we know it isn't always possible to keep dry.
We've designed our casing to withstand 10 ATM (atmospheres) of water resistance to give you the peace of mind that you deserve.
This gives protection across everyday activities, swimming, mountain climbing, parachuting, hang gliding and skiing.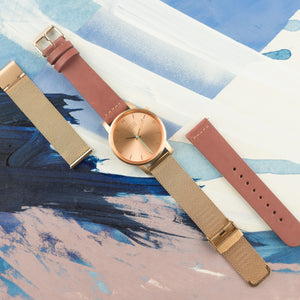 TWO LOOKS ONE PRICE
The combination of leather and steel spans back over a thousand years so our team at Hervor have paid respect to this tradition by offering both the Italian leather and BONUS metallic mesh straps with every Tyrfing watch.
We give you the freedom to create and wear it your way. Your personal journey isn't always black & white and we realise it is ever evolving so our interchangeable straps come in a range of chic colours that compliment your style.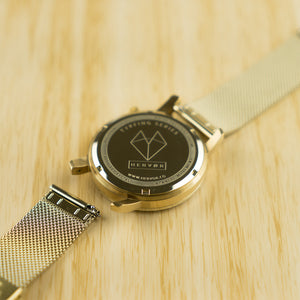 SWAP QUICKLY & EASILY
We know you're always on the go so we've designed our interchangeable straps to swap out easily to pair your watch with any outfit.
Just depress the peg with your fingernail to release the pin and straps. Do the inverse to re-attach.
No tools necessary! It's that simple!
WATCH VIDEO